The Aspera Service Account
The Aspera service account runs services for Aspera products, including:
Aspera Central
OpenSSH Service (optional)
Aspera NodeD
Aspera Sync
By default, the user name is svcAspera. User names for Enterprise Server version 3.1.0 and later are case sensitive.
A local account (such as the default svcAspera) is all that is required to run Aspera services if your machine is not joined to a Windows domain. If your machine is joined to a domain, if you need to provision Active Directory accounts, or if transfer users store files remotely, see the following table for the type of service account to use:
| Requirement | Type of Service Account User |
| --- | --- |
| Provision local transfer users only. | Local account. Domain account with local admin privileges can be used, but is not required. |
| Provision Active Directory accounts for transfer users (users who wish to transfer with your server are authenticated through Active Directory). | Domain account with local admin privileges. |
| Transfer users store files on a remote file system (not on your server machine), such as an SMB file share. | Domain account with local admin privileges. Additional actions may required. Please see the aspera knowledgebase or contact your Aspera account manager for assistance. |
Local Accounts
If a local account does not already exist, enter new credentials and click Next. If the account already exists (for example, if it was created for the previous installation), enter the account password and click Next. If the existing user's password you have entered is incorrect, or you wish to change the Aspera service user, see Managing the Aspera Service Account.
Domain Accounts
If the server is configured to accept a domain user login, use a domain account that has been added to the local administrator's group to run the services. You must create this domain account in your Domain Controller first. The username for a domain account must be in the form username@fully.qualified.domain.name. See the example below.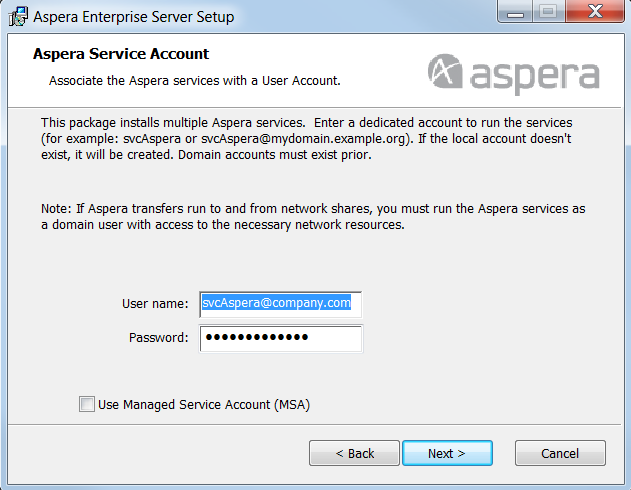 Use a Managed Service Account (MSA): Select Use Managed Service Account (MSA) and enter your MSA user name in the form: "identity$@domain" (For example: AsperaMSA$@msa.test.local). For more information on MSA, see the Managed Service Accounts page on the Microsoft website.